☞ duo Nowak - Feruleva
Exploring the genre of the violin-cello duo: Kaja Nowak on violin, Anastasia Feruleva on cello. A musical partnership reinforced by a friendship of the inside-out kind. Repertoire ranging from Bach and Beethoven to Ravel and his contemporaries. Concert programmes consisting either only of violin-cello duo pieces, or a mix of those with works for violin solo and cello solo.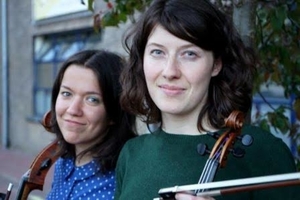 ☞ St. George Quintet
Two violins (Liesbeth Baelus and Kaja Nowak), viola (Marie-Louise de Jong), cello (Wouter Vercruysse) and double bass (Bram Decroix) is a not-so-conventional setting and thus a very versatile repertoire. Next to well known and loved pieces like the Dvorak quintet, the SGQ performs many rarely heard works from composers such as Onslow, Bliss, F.S.Kelly, has worked together with marimba and trombone players, co-created a music-theatre performance, and even presented their own arrangements of songs by The Beatles.
The St. George Quintet is a laureate of Supernova 2016, a competition for young chamber music ensembles organised in cooperation with the Belgian classical music radio station Klara. December 2016 marks the release of their debut CD album,
British Legends
.
www.stgeorgequintet.com
See The making of
British Legends
(...and hear Kaja speak about why she makes music at 6:02!)