p r o j e c t s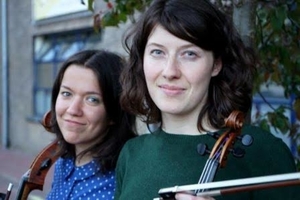 duo Nowak - Feruleva

Discovering the genre of the violin-cello duo: Kaja Nowak on violin, Anastasia Feruleva on cello. A musical partnership, built over years of having performed together in every possible chamber music combination, reinforced by a friendship of the inside-out kind. Repertoire ranging from Bach and Beethoven, through Ravel and Kodály, to contemporary compositions. Concert programmes consisting either only of violin-cello duo pieces, or a mix of those with works for violin solo and cello solo.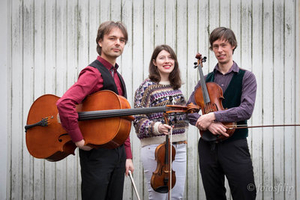 Septimus Trio

The starting point for this ensemble, formed by the inner voice players of the St. George Quintet (read below), was a request to record Frederick Septimus Kelly's String Trio, the manuscript of which was discovered in Florence in 2016, a hundred years after it was written, performed, and lost. Being already acquainted with Kelly's exceptional story and his work, Kaja, Diede and Wouter delved into this project with a lot of interest and have been very happy to present this work to a wider public - and explore other string trio repertoire as well.
Photo: Filip Verpoest.




Karski Quartet | www.karskiquartet.com

"... fresh and gripping..." - The Sunday Times

"...l'interprétation par le groupe du presque expérimental Quatuor n° 15 opus 124 [de Weinberg] (1979) se révèle passionnante et n'appelle que des éloges (...) les Karski font montre d'une alacrité et d'une implication idéales : nos musiciens projettent en pleine lumière et sans compromis le fil discursif de l'œuvre, entre linéarité des enchaînements, symétries en arche des mouvements et effet de mémoire générés par de courts motifs récurrents, avec une maîtrise collective assez incroyable au vu de la récente création de la formation." - resmusica.com

Rapidly gaining recognition on the international music scene for its passionate interpretations of works ranging from Haydn to 21st century repertoire, the Karski Quartet was formed in Belgium in 2018 and performs in a wide range of venues throughout Europe.

The quartet's founding members are violinists Kaja Nowak and Natalia Kotarba, violinist and violist Diede Verpoest and cellist Julia Kotarba. Having played with one another in many different combinations, the four met as a quartet during the 2018 Resonances Festival Academy. Soon after they were awarded the Grand Prix as well as the Special Prize for the alumni of the Royal Conservatory in Brussels at the 4th International Music Competition Triomphe de l'Art in Brussels.

Since the inception of the quartet their mentors have been David Waterman, Philippe Graffin and Amy Norrington. From January 2019 through March 2020 the Karskis were the resident ensemble in the String Quartet Studio programme at the Royal Northern College of Music in Manchester, working closely with Donald Grant (Elias Quartet), Petr Prause (Talich Quartet), Pavel Fischer (ex - Škampa Quartet) and Simon Rowland-Jones (ex – Chilingirian Quartet). They were also one of the first ensembles to take part in the ECMAster, a new Master study programme specially dedicated to chamber music and coordinated by the European Chamber Music Academy. The Karskis were awarded the highest distinction for their final recital at the RNCM in summer 2021. At present the quartet is Artist in Residence at the Queen Elisabeth Music Chapel in Waterloo/Brussels, studying with members of the Artemis Quartet and Miguel da Silva. The quartet has also been selected to join Le Dimore del Quartetto network and is one of the three groups invited to participate in the 2022 Amsterdam String Quartet Biennale Residency.

Karski Quartet takes its name from Jan Karski, the legendary World War II resistance-movement figure. Commited as he was to showing others the dramatic truth about the war, the Karski Quartet members strongly believe that every era needs heroes like him. Amid the serious difficulties which the whole human population is facing now, they find Karski's profound compassion and uncompromising attitude an example to be emulated in art as well as in life.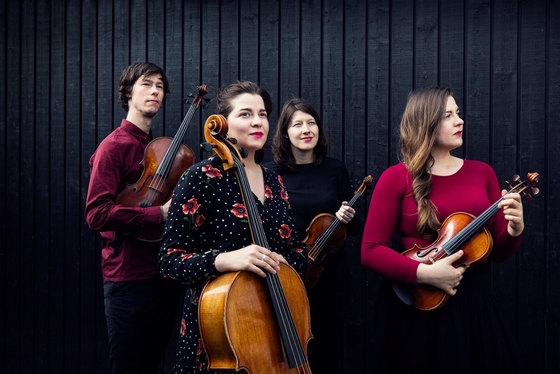 Ⓒ Juri Hiensch
St. George Quintet | www.stgeorgequintet.com

Two violins (Liesbeth Baelus and Kaja Nowak), viola (Diede Verpoest), cello (Wouter Vercruysse) and double bass (Bram Decroix) is a not-so-conventional setting and thus a very versatile repertoire. Next to well known and loved pieces like the Dvorak quintet, the SGQ performs many rarely heard works from composers such as Onslow, Bliss, F.S.Kelly, has worked together with guitar, marimba and trombone players, co-created a music-theatre performance, and even presented their own arrangements of songs by The Beatles and Queen.

The St. George Quintet is a laureate of Supernova 2016, a competition for young chamber music ensembles organised in cooperation with the Belgian classical music radio station Klara. The SGQ has recorded two CD albums, British Legends (with music by Elgar, Vaughan Williams, Bliss and F.S. Kelly, released by Pavane Records in 2016) and Bohemia Express (with works by Dvořák, Janáček and Suk, produced by Rachel Smith - Ophelia Productions, and released in February 2019).



See The making of British Legends
(...and hear Kaja speak about why she makes music at 6:02!)


Bohemia Express
CD trailer
Les Métamorphoses | www.lesmetamorphoses.be

Inspired by the work of Nikolaus Harnoncourt and Sir Roger Norrington, the instrumentalists of the Les Métamorphoses orchestra have given themselves the task of creating a sonority that is most suited to this era by combining modern and early instruments (natural horns and trumpets, early kettledrums, double bass with gut strings etc.). Founded by Camille and Raphaël Feye, the ensemble is made up of musicians chosen for their commitment and interest in historically informed practice and performance.