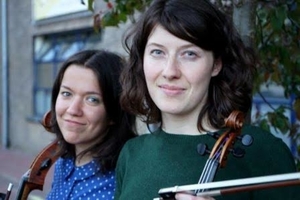 ☞ duo Nowak - Feruleva

Discovering the genre of the violin-cello duo: Kaja Nowak on violin, Anastasia Feruleva on cello. A musical partnership, built over years of having performed together in every possible chamber music combination, reinforced by a friendship of the inside-out kind. Repertoire ranging from Bach and Beethoven, through Ravel and Kodály, to contemporary compositions. Concert programmes consisting either only of violin-cello duo pieces, or a mix of those with works for violin solo and cello solo.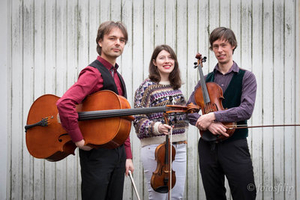 ☞ Septimus Trio

The starting point for this ensemble, formed by the inner voice players of the St. George Quintet (read below), was a request to record Frederick Septimus Kelly's String Trio, the manuscript of which was discovered in Florence in 2016, a hundred years after it was written, performed, and lost. Being already acquainted with Kelly's exceptional story and his work, Kaja, Diede and Wouter delved into this project with a lot of interest and have been very happy to present this work with success to a wider public - and explore other string trio repertoire as well.

☞ Karski Quartet | www.karskiquartet.com

Karski Quartet was founded in 2018 by violinists Kaja Nowak and Natalia Kotarba, violinist and violist Diede Verpoest and cellist Julia Kotarba. Having played with one another in many different combinations, the four met as a quartet during the 2018 Resonances Festival Academy, where they were coached by Elisabeth Kufferath and Philippe Graffin, and again at the Rencontres Internationales Musicales d'Enghien, where they participated in masterclasses with Amy Norrington and David Waterman. Soon after they went on to take part in their first competition as a string quartet, the 4th International Music Competition Triomphe de l'Art in Brussels, where they were awarded the Grand Prix as well as the Special Prize for the alumni of the Royal Conservatory in Brussels. From January 2019 they will be joining the String Quartet Studio at the Royal Northern College of Music in Manchester, working closely with violinist Donald Grant (Elias Quartet) and members of the RNCM's Chamber Music faculty. Based in Brussels, their concert engagements since the inception of the quartet have brought them to Belgian venues as well as concert series and chamber music festivals in France, the Netherlands and the UK.

Karski Quartet takes its name from Jan Karski, the legendary World War II resistance-movement figure. Commited as he was to showing others the dramatic truth about the war, the Karski Quartet members strongly believe that every era needs heroes like him. Amid the serious difficulties which the whole human population is facing now, they find Karski's profound compassion and uncompromising attitude an example to be emulated in art as well as in life.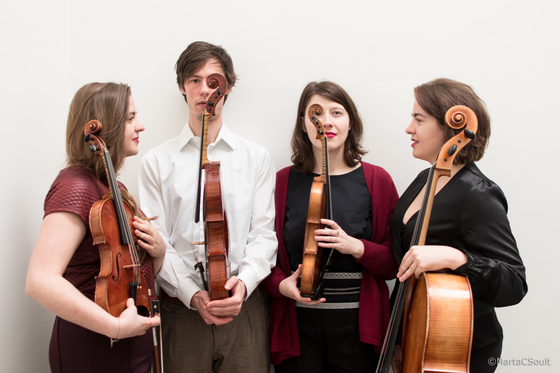 ☞ St. George Quintet | www.stgeorgequintet.com

Two violins (Liesbeth Baelus and Kaja Nowak), viola (Diede Verpoest), cello (Wouter Vercruysse) and double bass (Bram Decroix) is a not-so-conventional setting and thus a very versatile repertoire. Next to well known and loved pieces like the Dvorak quintet, the SGQ performs many rarely heard works from composers such as Onslow, Bliss, F.S.Kelly, has worked together with guitar, marimba and trombone players, co-created a music-theatre performance, and even presented their own arrangements of songs by The Beatles and Queen.

The St. George Quintet is a laureate of Supernova 2016, a competition for young chamber music ensembles organised in cooperation with the Belgian classical music radio station Klara. The SGQ has recorded two CD albums, British Legends (with music by Elgar, Vaughan Williams, Bliss and F.S. Kelly, released by Pavane Records in 2016) and Bohemia Express (with works by Dvořák, Janáček and Suk, produced by Rachel Smith - Ophelia Productions, and released in February 2019).



See The making of British Legends
(...and hear Kaja speak about why she makes music at 6:02!)



Bohemia Express CD trailer